In a world without physical photo albums, I find I need a space to collect my thoughts and memories. I imagine that if everyone had a blog, the internet might break, but this is the space I have chosen. It's 'my space' to use a reference from over a decade ago.
Continuing that analogy, I may use this space to jog my memory about events from life…you know, later on when my memory fades. I've been writing in physical journals for over 30 years and I use those journals in a similar way. The thing about this space is that since I don't really have control over it, it could disappear at some point. After I stop paying an annual fee ($40 to be able to put youtube videos on the blog instead of just links, as well as for the option of people subscribing, and more), the people at edublogs might delete this blog one day due to inactivity or for some other random reason. Then, like many of my memories from years ago, my ideas will be gone. I suppose I could write a book…possibly from these blog entries…but assuming I don't, let's just say I am more and more aware of the fleeting quality of memories and life in general.
Every day on vacation in Seattle was precious. Every moment really. We spent most of our time in Edmonds, which is about 40 minutes north of downtown Seattle depending on traffic. Rachel and Robbie moved there almost a year ago; one reason was so Rachel only had to drive 10 minutes to work. Robbie is driving for Uber Eats so his work goes where he goes. They had lived in Seattle for around eight years in the same apartment and I think another reason they moved was for a new, larger, more economical space. We all shared one car for the 10 days (plus travel days) we were there — except for a day and a half when we wanted more space and options, so Rachel rented a van. It was fortunate that we were able to find an airbnb two short blocks away from their apartment.
We have never hiked as many different trails as we hiked this trip. In the past, we had been to several trails within the city — Discovery Park, Ravenna Park, Washington Park and Arboretum…there are dozens to choose from — but this time we found five or six new ones outside the city.

Pine Ridge Park was closest, so we hiked it a couple days
Our time in the Cascades was one of my favorite parts of the trip. Even though every park we hiked was a welcome retreat from life's hectic pace, the Cascades trip was a journey, a destination (about 1 1/2 hours east), and an all-encompassing get-away. The several, bumpy miles up the dirt road to get to the trail was an event in itself; I couldn't imagine anyone else would be up at the trailhead. There were about 10 other cars there though. After a delicious picnic, we walked the 2.2 meandering miles to Barclay Lake in lush peacefulness. We explored a few side paths and appreciated the tranquility of the lake when we found it; one family was fishing unsuccessfully and it seemed like most people brought their dog on the trail…but I bet we saw less than 20 people total. The way back went by faster somehow, but was just as gorgeous and serene. The journey was enhanced by a stop for dinner in Gold Bar, WA, at a local restaurant called Prospector's Steak and Ale. I had a flashback to Bob's Country Bunker in the Blues Brothers' Rawhide scene but it turned out to be very good food and decent service. We even commiserated with the Seahawks' fans during their first preseason game, having many years experience as disappointed Lions' fans.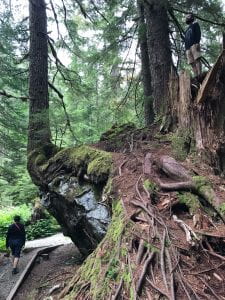 Judy and Aaron on our Cascade hike
Rachel and Robbie have a couple of cats that were kittens last time I saw them. This time they were a bit less playful and somewhat distrustful of these new people. It was still fun observing them, though. I wrote an untitled cat poem from my few days with them —
Cats can hear
well enough to be
guard dogs.
Maybe we should domesticate
panthers to be
our attentive watchers.
The grace and style of cats
plus that lethal edge
of a Doberman Pinscher.
The way a cat's ears
turn at the slightest
peep, crack, bump
In the next room
is impressive —
usually a waste of time
But check it out they do,
anyway —
curious homebodies
That they are —
wary of change
like old Republicans.
Another favorite event was our evening at the ACT Theater seeing The Year of Magical Thinking. I had read the book (and since then, have seen the Netflix biography about the author, Joan Didion) The one-woman play was similar to and different from the book: still a not-so-gentle warning that we will all have life-altering grief to deal with; still a distantly emotional, scattered-but-connected view of her grief; and and update regarding the levels of grief and brief clarity she's had since the book. If you know me at all, you know I'm a book person. However, when a book is given life in play form with the author's guidance — I'm always a fan. Theater spaces are sacred to me; magic happens there.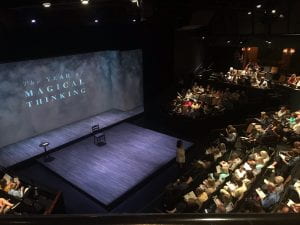 You can see more of our photos at this link (though not all the photos have captions, if you want to see the captions, scroll up on each photo).
Many thanks to Rachel and Robbie for sharing their space and their time which led to many wonderful discussions and numerous, new, special memories.
P.S. I went to several Seattle area bookstores and bought as many (mostly used) books as I could fit into my backpack and luggage. That's part of what makes each destination unique, I believe. One that I found at the Edmonds Public Library also intrigued me: Halal If You Hear Me: BreakBeat Poets Volume 3. I opened it to a poet from East Lansing, Leila — a sign and a gift. It's a marvelous collection of young, Muslim poets expressing current, honest feelings and concerns. I bought two copies and had them delivered to our house (delivery was free if I bought two); if you want to borrow one, let me know.
P.P.S. If you want to subscribe to this blog, check out Subscribe By Email: if you are on a tablet or computer, it should be in the left sidebar; if you're on your phone, you may need to scroll all the way to the bottom of the page (sorry).