We began the year talking about how terrible the Baltimore Orioles would be this year. Unfortunately, somewhere in the middle of the year, the Tigers became the story. I've watched many a Tiger game this year (even went to one) and this team is full of intriguing, talented players. They're fun to watch. The announcers hype them quite well and a decent number of fans show up for most games.
If you haven't checked lately, though, they currently have the worst record in major league baseball. The Tigers are playing .306 ball as of this morning — that's 37 wins and 84 losses.
Let's be clear. I love the Tigers. I grew up watching them at Tiger Stadium, I've come to enjoy the atmosphere at Comerica Park, and I'm not planning on switching my allegiance. It's difficult these days to talk/write frankly about politics, race, religion, and death (teaser…those are the topics of upcoming posts); baseball is usually the safe, go-to subject (like the weather), but it's time to start considering where this Tiger team will show up on the list of worst MLB records. It's a distinct possibility.
Here's the list that teams don't want to be on (from Wikipedia):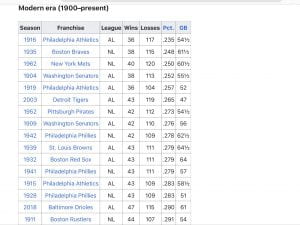 And here's what it comes down to: 17 of the Tigers' final 41 games are against teams that are currently in first place. We'll be playing Houston (4 games), Minnesota (10), New York (3) in this final stretch. It will be tough for this Tiger squad to get many wins out of those games. I was wondering how that compared to Baltimore and Kansas City's final stretch. As it turns out, Baltimore only plays three games against first place teams and Kansas City will play 10 games. The Tigers have the more difficult final stretch.
What's a fan to do? Well, here's my suggestion. Let's root for them to get at least 10 more wins in the final 41 games. That way, they will be only in the ballpark of the 2018 Orioles at .290. I did the Math and if they only win five more games, they will be worse than the 2003 Tigers (see chart above) at .265. I'm going to go out on a limb and say we don't have to worry about being on the top of that 'worst' list; we would have to only win one more game this entire season to top the 1916 Philadelphia Athletics for first place. I feel confident in this team to win at least a few more games, so we don't have to worry about that.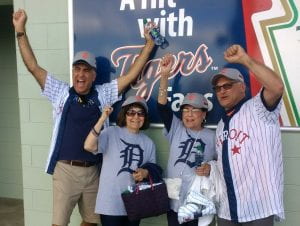 GO TIGERS!!!!