Years ago, my fishing buddies and I created this mash-up of a song. I started singing it again today — a couple weeks into this virus lock down.
* Note: Every time the lyrics change, you need to start singing the new song tune…
It starts with Lenny Kravitz' "Fly Away" then to Steve Miller band's "Fly Like an Eagle" and so on.
I want to get away
I want to fly
like an eagle
to the
CC Rider
Riders of the storm
into this world were
Born to be wild
Born to be
Wild thing
You make my heart
Singin' in the rain
I'm singin' in the rain
Purple Rain
Purple Rain
(there may be more but I can't remember it)
Here's an audio version…

I share this because though 'I want to get away,' I am staying home. I do feel like I'm bopping from one thing to another, having trouble going deep into anything (writing, episode-watching, reading, gaming…). This memory reminds me of carefree times and I hope to get on the river again this summer, but I'm taking every precaution at this point. I pray that you will also. We can limit the severity of this virus if we work together.
Coronavirus update
BEST SUMMARY VIDEO: Trevor Noah interviews Dr. Fauci

The numbers of people with Coronavirus in the country exceeded 100,000 recently. The toll this virus is taking on health professionals is tragic. While some news agencies just focus on the dumpster-fire, others share the personal and economic costs Americans are experiencing.
Here's one of the more compelling personal stories

Fun stuff on the internet:
* 50 Bird Species and the Sounds They Make
* Cowboy Museum Puts Their Head Of Security In Charge Of Their Twitter, And His Tweets Are Hilariously Wholesome
* Universal Studios "Free" Photo Booth, "Can't Stop Laughing"
(this one opens in Facebook)
* An artist takes a trip to Estonia and comes away with insights about the country and Brexit
* I was going to discuss how many sheets of toilet paper one should use for #1 vs. #2, depending on your gender…but instead, just watch these guys and their alternatives to toilet paper.
Movies we have seen so far:
* Young Sherlock Holmes – We saw it on Criterion, but you can also see it on YouTube TV and Vudu. Directed by Stephen Spielberg, this 1985 flick was much better than I expected. The music and a few of the scenes reminded me of Indiana Jones, Star Wars, E.T., and even Harry Potter for some reason.
* On the Basis of Sex
* RBG
* Amelie
* Hugo
* Moulin Rouge
* Manhattan
* Mrs. Doubtfire
Every once in awhile Robin Williams re-enters our lives. His daughter, Zelda, posted this photo of them on her Twitter feed. And one thing led to another and we enjoyed his humor again last night.

Some of the shows/series we have watched (and where we found them)
* The Marvelous Mrs. Maizel (Amazon Prime)
Here's the Maizel cast interviewed if you need another fun thing

* The Crown (Netflix)
* Outlander (Starz)
* Schitt's Creek (Netflix)
* Ken Burns' Baseball (PBS)
* Mark Maron's stand up called "End Times Fun" (Netflix)
* a few Sherlock Holmes episodes on DVD (PBS version with Jeremy Brett)
Some Teaching and Learning Resources
* Bound to Be Bound Resources for Homebound or Home Schooled Students
* A list of authors and illustrators doing online storytime
* Virtual Tours of 12 Famous Museums
* A Zoom conference called "Moving Online": Critical and Creative Teaching in Response to the COVID-19 Crisis led by my friend and mentor, Dr. Troy Hicks

Re: what else I'm doing…
We just finished our second puzzle. I liked several things about it: the reminder that we have so many National Parks and Monuments waiting for us to visit; the information about the parks was interesting (and helped when placing pieces); getting reacquainted with the location of the parks (because I love geography); and the vibrant colors of the puzzle. We are starting another puzzle today.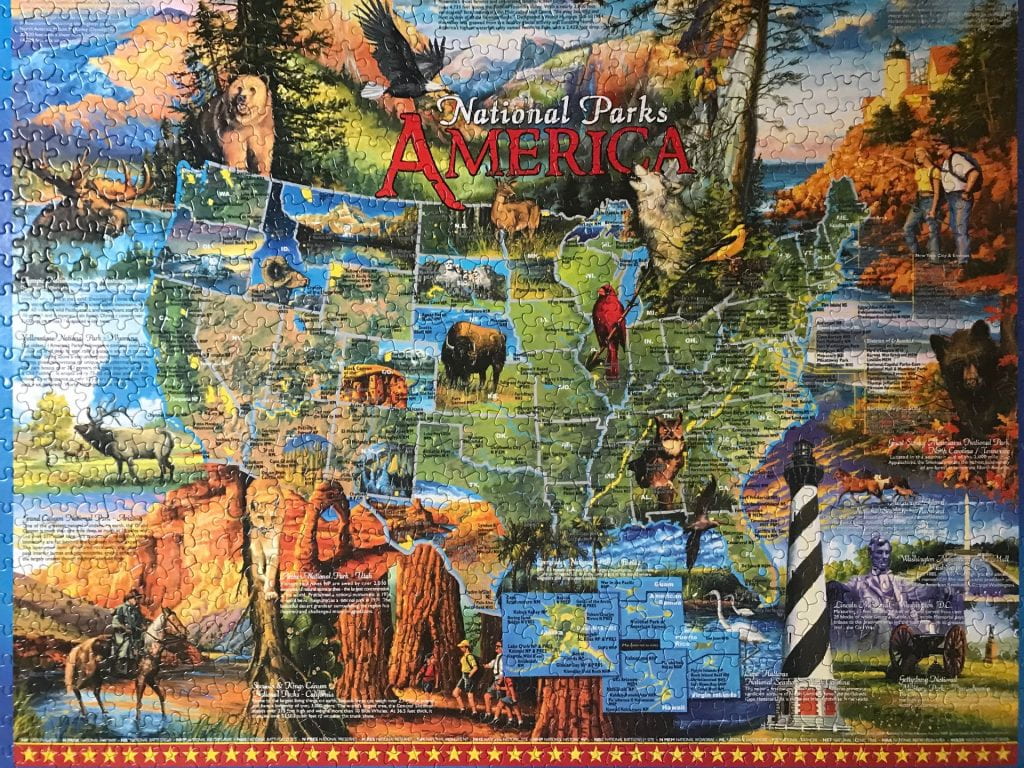 I'm reading a few things of course: The Sun Magazine (and old copies that I didn't finish); listening to Trevor Noah read his book, Born a Crime; Jesus and the Disinherited by Howard Thurman (our men's book group book); Lent 2020, Christ Is for Us by April Yamasaki; and several books of poems (In the Corner of the Living by Janine Certo; Tunsiya/Amrikiya by Leila Chatti; and E-mails from Scheherazad by Mohja Kahf)
I'm writing two books right now. My book of poems was coming along slowly until this isolation set in. Now, I have collected in one document all the poems I'm currently planning on using. I need to revise about a third of them and pass the whole collection by the members of my writing group (and by Judy). Here's a glimpse at the list of poems I have included thus far:
A Hope Unspoken
First Teacher
Baboo Godoshian
Berube
Test Driving a Hearse
Another Day
Clara was a Tiger
Praise for Anonymous
Dad
Reflecting
Language Lover
In a Democrat's Car
Open Sky
How You Know You're in the Northwest
Instead, at 6:30 am
BRF is Not Me
Birth of a Poem
This photo
Opening a Pomegranate
My Brainmind
Poem for Today
Too Still, Too Small
Bob Skinny
Guilt
Why We Are All Not Jesus
Ultimately
If Life is Baseball
Cats
In Love
What Will Happen
I will hopefully be self-publishing them at MSU's Publishing Service…when it re-opens.
I'm co-authoring a book for teachers also. Kristine Brickey and I are writing a book called Lower Your Expectations: A Teacher's Survival Guide. Much of it is written; we are tweaking it and hope to have it out in some form by the end of the year. Here are the current chapter titles:
Lower Your Expectations: A Teacher's Survival Guide
Table of Contents
Prologue: Let's Get Real
Chapter 1: It's Not Time to Panic…
Chapter 2: Teachers Need Naps, Too
Chapter 3: Your Expectations are Too Damn High!
Chapter 4: Teaching 'Then' vs. Teaching 'Now'
Chapter 5: When To Bitch and When Not to Bitch
Chapter 6: Honesty and Parent-Teacher Conferences
Chapter 7: Why Won't You Let Us Teach?
Chapter 8: Now is Still Not the Time To Panic
Chapter 9: So What's in Your Toolbox?
After reading all of that, I seem busy (even to myself). I don't feel busy. I was just telling our son, Aaron, this morning how I enjoy the pace of my life. Yes, it has slowed lately, but even before our virus precautions, I have a blessed pace to my life. I'm aware that this life I lead is a privileged, white male life in a prosperous country…and I do my best to use my life for good.
P.S. Zoom dance parties are fun, too!