FYI: My new, header photo at the top of the page is from our garden. I like the clarity of the photo as well as how it alludes to an openness, a hopefulness. Photographer: me.
—
As a country, the United States of America is still in a rough draft, test stage. We are in the middle school years of our life. We like to think we are middle aged with some wisdom but I think not.
Our current president is an indicator. He leads like a head bully. He personifies this country's lack of maturity. He's always been the self-centered, fragile, macho teen bully that the other kids (senators) are afraid to defy. You remember the type from middle school; no one really approves of the guy but the group tolerates him…to a point.
Other ways we act like middle schoolers: too often, we make judgments about others without knowing much about the situation; we are curious, but not great listeners; depth is not our strength; we like to try on "adult" actions with little success; we don't appreciate the wisdom of adults (older countries…or even historians).
In order to grow up, people generally need a wake up call. Some eye-opening moment that requires self-analysis, that begs for a change of behavior. If the country hasn't been having wake up calls lately, I'm not sure what these have been. Between injustices and murders of Black people by our police forces to denial of climate change in light of increased forest fires and rising oceans to rampant disrespect of women to the way some can't follow safety guidelines to (insert your examples here) things seem a bit out of control and juvenile these days.
Growing up does not mean becoming liberal or conservative. It does mean moving on from those juvenile qualities of our early days: it means doing more listening for understanding, more learning and less judging, being more confident and comfortable with who we are and less likely to take things personally.
Empathy should not be political. It's a human skill. QAnon is not an example of empathy…it is juvenile, paranoid, ridiculous…and way too popular. There are signs that empathy is still alive and well in our country and lately I've been seeking them out.
I recently took part in my first Living Room Conversation (albeit virtual). These are structured ways to have civil conversations with people from a variety of political beliefs. Here are the ground rules …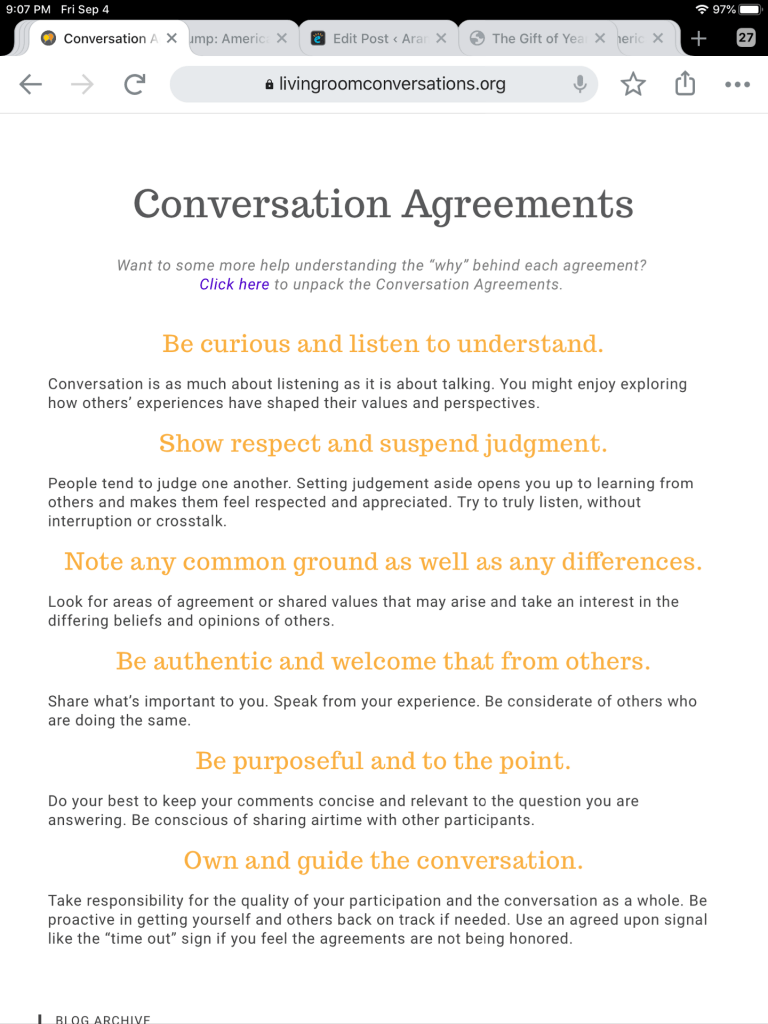 I found the time to be a useful exercise in listening to others. Though there weren't as many conservatives in the conversation in which I participated, we did talk a lot about people's varying ideas about our core values like freedom, access to work, and rising to a challenge. Some spoke of how the promise of America is so different than the reality for most people. People from around the country shared notions of balancing our hyper individualism with interdependence and our high hopes with a lowering of expectations; how understanding and tolerance may be more reasonable goals for us.
Another resource that I happened on is a book called Beyond Your Bubble: How to Connect Across the Political Divide by Tania Israel. This book jumped out at me as I was dropping off a couple books at a Little Free Library near my house. Someone had left an Advance Preview copy of this 2020 book that's on the market now. This book dovetailed nicely in with the online conversation I had. For example, the diagram from the book, below, points out some tips on having a meaningful dialogue. Though somewhat simplified, I found it a good reminder that we are more alike than different.
Both Living Room Conversations and this book focus on understanding the other side. They focus on tolerance for each other's views. You may not think that's enough or possible or worth it. I think it is. We're not going to change each other. But in a peaceful society, we need to practice civility. We need to understand and appreciate each other. Respect our differences.
If we don't aim for at least tolerance, the air in our bubble becomes quite stale and practically non-existent. And beyond tolerance, I wonder if another concept could be helpful. From the Living Room Conversations website, I learned a new word: sonder. Sonder is the realization that everyone has a story.

Be well my friends.
——
I recently read White Fragility: Why It's So Hard for White People to Talk About Racism by Robin DiAngelo and Michael Eric Dyson; here's part of my reaction in a poem.
——
White
I am not white
The edges of my eyes
are my only actually white part
Some call my skin
Mediterranean or olive
or Middle Eastern
but that's really just
avoiding the question
Yes I am white
in that
white male white privileged way
Some people see me
as a white, Ford F450
with perpetual right of way
in their way
And acquaint me with a long line
of dead white guys
who wreaked havoc
(that is, death and destruction)
while playing
the Christian card
I don't like being put in a box
with those guys
I do like being me
which is akin to hating
my truck but liking that it
gets me places
I don't think I live like a Ford F450
but that doesn't seem to matter
I need to accept my label
and hug the shoulder
so non-white folks
can get by
——
Resources:
* The Storycorps Project and Listening is an Act of Love by Dave Isay
* Elayne Griffin Baker's insightful list of what we've lost in the White House
* The Living Room Conversation piece on Sonder
* How to Recognize and Deal with Emotional Immaturity…while not about the USA, seems to fit.
* Immature Leadership: Donald Trump and the American Presidency and a reminder of what he's done