I've been struck lately by the amount of people I know that are traveling. Good friends are exploring the Greek Isles. Another friend is doing a fellowship in Tennessee. A retired couple I know are re-visiting Yellowstone Park and the Tetons to experience the wildlife and nature. Another family of adults is in Austria and Germany on a tour. A poet friend is in Italy visiting family. Another couple is visiting their daughter in Japan. A Kalamazoo College student is studying abroad in Germany. A couple took their pre-teens out of school for the year and are RV-ing through southwestern United States. The list goes on. And while I'm a little jealous, I'm mostly just aware of the importance of getting out of our safe spaces and experiencing new environments and cultures. Without travel, our lives are narrow and fear of the 'other' festers.
For too many people in this country, fear is what drives them. It's sad. They fear immigrants and the gifts they bring. They fear imports and the competition they bring. They fear Science and the knowledge it brings. They fear women and the leadership they bring. Their fear leader is taking this country in the wrong direction. Instead of giving him and his negative tweet factory any more attention, let's change our focus.
The HP ad above, startled me a bit. (You can see the whole thing by clicking on the photo and there's an article about the ad here) Near the end is this photo and question…Have we lost touch with what's real? It's possible. We've at least lost touch with what's important; as I drive around the Lansing area, I notice many people looking down at their phones as they drive. It's incredibly dangerous. Driving IS real. I admit that I will check a text at a stop light, but looking while driving seems like asking for an accident.
I do think we need to change our focus (I'm talking to myself here, also).
Here are some suggestions:
* Visit a church, synagogue, or other religious institution different from the one that you usually attend. The new minister at the Peoples Church of East Lansing, Reverend Dr. Shawnthea Monroe, was inspirational and challenging in her recent, first sermon. That's where I sing in the choir; and I do plan to attend regularly. I feel drawn to Congregation Shaarey Zedek, too, though. And the Islamic Center of East Lansing is a very welcoming place also. I've attended services at both places of worship as part of the Thanksgiving time interfaith services. This year's Interfaith Service will be at the Unitarian Universalist Church on South Pennsylvania on Monday, November 25th at 7 pm. if you are interested.

* Get involved politically instead of feeling angry or apathetic. Learn about the candidates (just a suggestion) before you vote.
* Learn something new, whether online, at a college, by reading a book, or going to a film. For example, the East Lansing Film Festival is always an eye-opener for me. The link says the festival starts October 30th, but the Indie festival is going on this weekend…I plan to see Sama and Tel Aviv on Fire in the coming days.
* Travel as often as you can; finding affordable travel is difficult, but possible.
* Use public transportation as a way to change your perspective.
* Participate in a Living Room Conversation as a way to express your concerns on an issue and try to understand the concerns of those who think about the issue differently. https://www.livingroomconversations.org/
* Disconnect from your devices for a day or a few days — look at people, talk with them…even people you do not know. It's refreshing to talk with people you don't know (check out the link).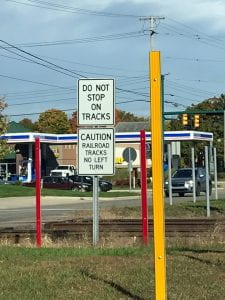 Does the fact that this sign exists mean that someone turned onto the train tracks? Let's be a little more careful out there, people.