Teachers, like many people, have a love-hate relationship with "change." In some ways, change is our goal. Change can mean growth and that is what we look for from our students. We hope for that kind of change. All of our plans come together when we see the light bulb go off in any way at all (students with epiphanies can make our days). Like old sponges, somewhat hesitantly, we soak in hours of professional development (PD) aimed precisely at affecting noticeable change in our students in the subjects we teach; though we complain about the cyclical, often boring nature of PD, it can fuel our teaching, especially when it strikes us as common sense and useful.
I relish seeing changes in the way we think as a society on issues like gay marriage, and as individuals, which is why I enjoy teaching literature like The Giver (which speaks as a warning about dystopian change); then, there's the change in the weather…thank God for spring crocuses…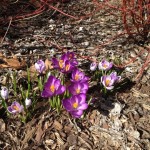 just when you think winter will last
forever
you take a walk
and hear birds chirping
a song of hope
that says
"spring is coming, spring is coming,
don't give up just yet"
One change I don't like is the way our society is becoming more and more critical of teachers. We're the Rodney Dangerfield of professionals — 'I get no respect' — and it seems to be getting worse. The state is toughening our evaluations to an absurd degree as part of some twisted agenda to turn us into robot teachers that produce robot students. One voice of reason that I've heard/read is Ellen Hamersma, a Forest Hills Eastern High School teacher. She wrote an opinion piece for MLive in response to an article called "Why Tom Izzo makes more than a French teacher." Her article, called "What if Tom Izzo were measured the same as Michigan's public school teachers?" reminded me that the rewards I receive from doing this job are hidden, frequent, and profound; the rewards come from the relationships with the students. We see that we affect change. I'm not quite sure I'll ever be able to communicate that to my principal on my evaluation…and I'm not sure it really matters.
It's partially the inquisitive nature of our teens that brings us joy. One of my students named Gavin recently asked me why I don't update my blog more often (that's a change right there…I don't recall students keeping track of my blog before). I had to tell him that recently I have felt disconnected from digital stuff (and how it represents a de-humanizing of us all); what I actually said was "I recently realized I touch the computer more than my wife…and it bothered me." As a matter of fact I wrote a poem that gets at this disturbing change (at the end of this entry).
The biggest change in my teaching this year has been the decision to add digital portfolios to the curriculum. I have had students keep their final drafts on an online space, then reflect on the process of writing those drafts. While this may not sound like a big change, it has necessitated me re-thinking the way I have students use time in class and how it's all related to someone's notion of what should be common about our core. As part of that push, we test the crap out of our students. I've been re-thinking the way and amount I test my students (on The Giver, for example). And I've come to realize that in many ways testing disrespects students. It turns them into numbers, filling in bubbles on a sheet, without feelings.
One of my mentors and friends, Dr. Troy Hicks, teaches at Central Michigan University. His recent blog entry called "A Few Thoughts for Pre-Service Teachers on Standards and Standardized Tests" reminded me that I'm on the right track. I'm not opting out of the digital age, I'm just questioning it. I'm just trying to keep it from turning this job I love into some dystopic version of itself.
Digital is
exciting and new —
engaging, wondrous, transformative.
Digital is
a headache too —
time and effort torn asunder.
Digital is
where my students are at —
in so many ways it's their "present."
Digital is
their mysterious nuisance or pitiful curse —
another world on which they're an alien resident.
Digital is
a way to connect and learn —
to bandaid loneliness and share beauty
and to aid understanding and promote justice.
Digital is
not real in any real way —
a false, two-dimensional experience.
The more I try to see
with digital eyes
the more I become
the machine.
I distance myself
from my reality —
from my heart,
from my soul,
from me.
So, I'll play the game
as long as I can —
I'll connect learning
with what digital is today —
with no apologies for,
in every minute,
infusing touch into the game,
for promoting laughter
onto the field,
for reminding us to be who we are,
to be with each other,
and to love.
P.S. My friend, Scott, shared this very poignant article from the Chicago Reader: "Standardized testing overkill at CPS"