For some bizarre reason, I didn't write much in June. Maybe I just needed to be outside as much as possible. I didn't even write very much in my personal (paper) journal. So this is my attempt to get caught up.
Most recently, Aaron and I went camping and hiking in Northern Lower Michigan. We explored the inland trails at Mackinac Island, hiked several trails at Hartwick State Park, and finished with a wonderful trail that rolled through Sleeping Bear Sand Dunes National Park. Several things amazed us on our hikes. It was most interesting and odd how few people were on the trails we chose. It seems like people would be out more, exploring Michigan. And there was so much to explore: I highly recommend Manitou Trail on Mackinac Island for inspiring vistas and peaceful spots; Point Lookout and Fort Holmes also offer amazing views; meandering through Hartwick's old growth forests is like time-traveling to before the lumbering era and, in some cases, seems like one would find Frodo around the next corner; and walking the sand dunes offered more sun and open spaces than we had seen in days, as well as continued breath-taking scenery of the Manitou Islands, among other things. We covered quite a bit of ground in the state and on the ground (approximately 20 miles in a four day period, which took us about 12 hours), but the variety we experienced, the peace-of-mind we found, and the fun we had together were worth every minute.
Here are the photos from our trip.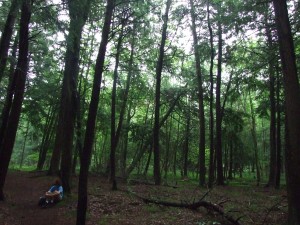 I've also been reading some great books this summer. I finished Dave Eggers' book, Zeitoun, pretty early in the summer (I had started it in late May). It's the One Book One Community book for East Lansing/MSU this upcoming year. Eggers drew me in very well with his descriptive prose; I understood how proud and respected Zeitoun was in his painting contractor business and how Hurricane Katrina devastated his life on so many levels. I also liked how Eggers let the story tell itself instead of shoving his opinions down my throat; I came to understand his message about not jumping to conclusions until you have all the facts…on many levels. And, now, I look forward to listening to him talk when he comes to East Lansing at the end of August. What further amazed me, though, was that I saw his name on the screen when I was watching Where the Wild Things Are as the writer of the screenplay. That seemed such a different genre and, though it is, that same message of finding understanding between people was one of the themes of that story.
I also read Scott Westerfeld's book, Leviathon, and it was time well spent. Students had suggested I read it and I heard Scott W. talk about the book at the last NCTE convention, but I seemed to take my sweet old time getting to it. Scott's writing inspired me so much that I sent him an email on his website and I am looking forward to the sequel, Behemoth.
One of the books I'm currently reading is an interesting look at the creation of the Oxford English Dictionary (OED) called The Professor and the Madman. (you can read some of it on google books). I find that I need a dictionary by my side while I read it, which I like; it seems like Simon Winchester, the author, wants to enlarge my vocabulary as I read. His in-depth research is fascinating, if you are intrigued by history as I am. That research is helping me to get inside the heads of Professor James Murray and Dr. W.C. Minor who had integral roles in the formation of the OED. It was about the same time as typewriters came on the scene that these two men (and dozens others with them) took on the gargantuan task of documenting the "biographies" of all the words, from the small and simple to the sesquipedalian (go ahead, look it up) and complex. Though I couldn't have imagined such a task before I began the book, I'm enjoying my education on dictionary-creation, as I begin to understand how the unique relationship between the Professor and the "madman" helped birth the OED.