Once in awhile, a book doesn't hold my attention and I stop reading it. The book may have too much or too little of one thing or another — too much politics or swearing or war or too little humor or reality or adventure. Looking for Alaska by John Green was like that. I didn't like the main character, so I stopped reading.
The Outlander series, by Diana Gabaldon, has held my interest for each of the eight books — well over 7,000 pages. I just finished the eighth book, Written in My Own Heart's Blood, and I must say the books are an artful mix of all those elements I mentioned above…with several dashes of time travel added which make it even more intriguing. Gabaldon wonderfully balances all the elements of story-telling and keeps me (and millions of others) anticipating the next book. For those who like comparisons and haven't read the series, think Barbara Kingsolver (for writing about nature & science and for story telling) meets Dr. Who (for his tardis) meets Ann Rinaldi (for historical fiction) meets Dr. Ruth (for spice), though that's still not the whole picture.
I've always been a curious person and I learn new words on practically every other page in Gabaldon's books. The photo, below, has just a few examples of the breadth of her vocabulary. She mixes in jargon from traditional and herbal medicine, gardening and mountain life, and a vast amount of Gaelic (Starz has several Youtube videos on how to speak Gaelic that are fun). She throws in quite a bit of French, Mohawk, and some German along the way, too. Each book is a lesson in language.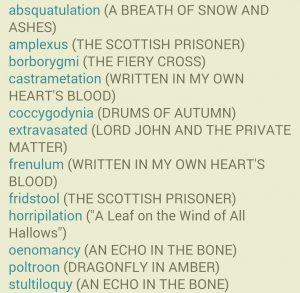 I've never read a novel that had so much romance in it until the novels of this series. Our daughter, Rachel, suggested I read the first book. She may have realized I needed a bit of spicy, dicey literature because it turns out that those are the scenes I reread most often. Go figure.
The term Outlander is a connection for me too. An Outlander is an outsider. The term Sassenach is a synonym for outlander in the books. We're talking about foreigners and more specifically, an English person, which Claire is in the books (though the term sassenach can be used in an endearing way at times). Growing up Armenian, we had a similar word that meant "non-Armenian." I always thought it was odd, but I've come to see that most languages have this type of term. The thing is, though, that we are all outlanders. Anytime we step out of our normal routine into another environment or culture we become an outlander. So I see the book as a reminder to welcome and learn from the "other" or different people in our experience. Claire, as an outlander, has much to offer the new communities she encounters and so do we in our travels and so do immigrants to this country.
(SPOILER: Stop reading (or skip the next paragraph) if you don't want to know a vague telling of the end of the eighth book)
The eighth novel focused mostly on the Frasers and Greys as they made their way in the late 18th century in our newly emerging America (though the 20th century travels of Briana were of much interest at times). In a glorious, eventful way, Claire and Jamie end up back on Fraser's Ridge and as the book comes to a close, Gabaldon re-introduces characters from several hundred pages earlier in an unexpected, triumphant, subtle, masterful manner that actually made me tear up. Her writing is a testimony to the power of story. To the intricacies of living. To the inventive imaginings of hopeful time travelers. To the richness of history and its potential power in the living of our days.
While it's true that I've skimmed a couple chapters here and there and second-guessed Gabaldon's overuse of time traveling, part of me feels like starting over from book one tomorrow. And I recommend you go to your local bookstore or library and jump into the series yourself. As diversions from life's craziness go, it's a winner.
Outlander news:
Gabaldon hopes to finish book nine by the end of the year, but a publication date has not been set.
Starz says that Season 4 of the television show should be out by September of this year. (There's also a slideshow of 10 Reasons You Should Watch Outlander on this link; the slideshow says the series is based on a Doctor Who episode, which I did not know.)
If you've read the series and want a (relatively) quick skim back through a timeline of events for the whole series, check out this timeline.