I'm sorry, but "What was your favorite city?" is not a fair question. Yes, I have answered it, but if you have traveled much at all (and I hope you have), you know that it's unlikely that one particular place rose above the rest of the amazing places.
Though I do understand the impetus of the question. You want me to relate the highlights of a 24 day get-away in a succint and helpful manner. You want to know, quickly, which place you may want to go on your trip someday (or maybe you're just being polite). The problem is that visiting new places is very experiential. It happens, it's awesome, and then you move on to the next amazing place. Unless one takes a video of the whole experience (which I've seen others do) — and even that isn't the same — being there is really the only way to get across the enormity of the cathedral, the brilliant colors of the 15th century fresco, or the thrill of being 12,600 feet up in the mountains and seeing three countries at once. Words don't do these experiences justice…so I should just stop writing….
Since I appreciate you taking the time to read this blog entry, however, here are my top seven favorite memories from our recent trip to France and Italy:
1. The greater Paris area speaks to me. The Metro is so useful and relatively cheap. The train (which is different from the Metro) helped us get to Giverny quickly and enjoy Monet's gardens. We found ourselves at the top of places, searching for more stunning viewpoints (ie., Eiffel Tower, Arch de Triomphe, Notre Dame, and our 4th floor Airbnb, up one of many circular stairways). We enjoyed a riverboat cruise on the Seine River on the first night, too (Judy reaches to touch a bridge, below…click on the photo to enlarge it).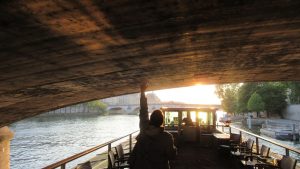 2. Beaune was memorable for the wine tastings, the food, and Daniele (our Airbnb host) and her generosity. I was surprised that the wine tastings were in the cellars of the winery; we snaked through over a mile of tunnels lined with wine barrels and stopped occasionally to drink a small quantity of various, delicious wines.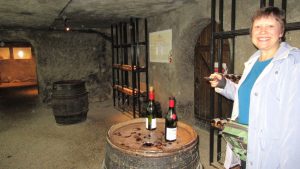 3. Mont Blanc took my breath away. That is, the views were gorgeous and we were so high up (12,600 feet) that I had some trouble breathing. We were in the French Alps at Chamonix, France, and found it charming and welcoming. We took the gondola up to Aiguille du Midi, an observation platform to view Mont Blanc; Rick Steves was there last year and made a short, informational video. Judy was in her glory with mountain views in every direction. We stayed at a beautiful, rustic hotel on the Arve River called the Hotel d'Arve And 'stepped into the void' for a dramatic photo.
4. The Amalfi Coast is gorgeous. We stepped into the Mediterranean Sea on some black, slippery stones in Positano. Then, later we stayed in a wonderful family hotel on a hill near Sorrento that overlooked the Tyrrhenian Sea and Naples and Mt. Vesuvius in the distance.
5. We were only in Venice for a couple days and in that short time we glimpsed the integral and complex place that diverse boats play there. We were on water taxis, a gondola, a water subway, a car ferry, and a regular ferry on our way out to the island of Lido to get to our hotel. And we found ourselves up high again to get a new perspective.
6. Staying at the Grand Hotel on Lake Maggiore in northern Italy with the Alps on the horizon was incredibly picturesque and the hotel's lasagna was the lightest, most delicious of the trip. It was a resort area with a very relaxing vibe and I would go back in a nano-second.
7. Judy and I had a remarkable dinner experience in the Tuscany region outside of Florence at the Villa Machiavelli — excellent food (I had a T-bone steak), serenaded by a talented singer and guitar player, some impromptu dancing with Alissa (our travel director) and Preston (a new friend from Massachusetts with an artistic, fun sense), intersting conversation…and several local varieties of wine!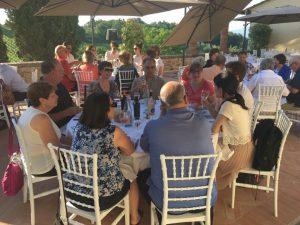 I would return to all of those spots. And many more. (I would have to win the Lotto to do it again soon…if you're thinking about doing a similar trip and want to talk about costs for such a trip, email me at akabodian@gmail.com and we'll talk over coffee.) Traveling is almost always costly, but it is always worth it, in my experience. I find that if I spend too long in my safe, predictable space, I forget about the rest of the world. I don't think about people speeding along at 180 miles per hour on bullet trains or people who feel they need to pickpocket or palm bills upon payment in order to survive. I forget that there are other, interesting things to eat for breakfast, that even ice cream can blow your mind (as in…gelato), and that lemons (super-huge lemon skins) can be turned into tasty Limoncello. Travel spices up life by reminding us of the diversity of people and cultures. I can't wait until we plan another get-away.
A few rules or guidelines we tried to live by while we were there:
1. Use a rest room whenever you have the chance because you may not see one again for awhile (or you may have to pay for it…some public rest rooms in Italy cost .50 euro – 1 euro to use).
2. Use the language of the country if possible. People seemed to appreciate it if we said Hello, Thank you, You're welcome, and other phrases in the language of the country…although I think I said Parle vouz anglais? (Do you speak, English?) more than any other phrase.
3. If you hear English being spoken by others, assume they are tourists and engage them in conversation. That connection with strangers in a foreign place is like finding a surprise, temporary relative. We met people from many states (FL, CA, PA, NY, TX…) that way, as well as interesting blokes from England and Australia.
4. Wear your money belt (with credit cards, passport, and some euros) almost all the time you are in a public place. With exceptions like the hotel restaurant and the pool, we felt safer with our valuables under one layer of clothes. We still had a few bills and some change accessible in pockets, but not the more valuable items.
5. If your feet are happy, you'll be happy. We both had amazing shoes with us — I wore my Keen hiking boots and Judy wore a Keen sandal with a closed toe most of the time. These shoes had plenty of support, some breathing space, decent comfort, and weren't excessively heavy.
6. Write down what you did every day because it's tough to remember later on. Judy was great at this.
7. Take some photos, but don't go crazy with it…enjoy the moment. That may be hard to believe, if you follow the link to the photo album I put together. However, I could have filmed the whole trip…it was that amazing…so finding your own balance is necessary. You'll see people who go overboard — don't be that person.
8. Look up…and down. The ceilings are often the most impressive part of the view. Frescos cover many ceilings and multi-colored marble and granite show up when you least expect it. Ditto on the floors.
9. Let somebody who knows the area do the driving. We used the Metro in Paris, our Eurail passes several times crossing France and then, in Italy, let the bus driver get us places (we took the Best of Italy bus tour with Trafalgar, which we highly recommend; we also recommend Affordable Tours to book the tour). It lowered our stress-levels significantly to trust others to get us places and not try to figure it out — especially since we hadn't been to most of the places we visited. It was more expensive, but I was so glad we had made that choice. And I still remembered how to drive when we returned…so yeah.
10. Rick Steves is usually right, so don't doubt him.
Here are some of our photos and videos for your enjoyment. Let me know if you want a personal explanation of any or all of them:
The Cascade du Dard (waterfall) near Chamonix, France video
Alissa tells Odysseus/Sirens story on the road to Positano, Italy, video