Lisa Genova wrote the movie, Still Alice, several years ago. In her recent TED talk called "What you can do to prevent Alzheimer's," she concludes that continuing to learn throughout life seems to be very important in preventing Alzheimer's Disease. This makes sense intuitively as well because if I am always learning, I stay fresh and current…like a constantly sharpened pencil never getting dull.
For me, though, it's more like learn, learn, forget, re-learn, re-learn.
Another short, four-day writing camp ends and I have learned many things — I hope the students came away with something, too. For at least ten summers, I have taught teens in the summer at the Red Cedar Writing Project's Spartan Writing Camps. For years, I led a camp called "Digital Writing," but more recently I have been widening the focus to "Creative Writing." I like the flexibility that such a class affords and often I include some digital writing as part of the camp.
One techie thing I re-learned was how fun and useful Storybird can be. It's a great tool for sharing longform stories, picture books, and poems. I also was reminded that their notion of a poem is something you create with the words they provide (like refrigerator magnets); choose "picture book" to share a previously written poem and you can add photos to go along with the poem. And who did I learn all of this from? A teen named Elaina. Seeing her enthusiasm for the website, I asked her to teach the camp about it with a 10 minute introduction. She jumped right up and did an amazing job. Five more students were using it in minutes and ended up presenting their final project with it. This bright 13 year old even inspired me to create the following haiku on Storybird.
On the last day of camp, I was able to get Lansing's new Poet Laureate, Dennis Hinrichsen, to visit our camp. That simple act re-taught me a couple things to start: it doesn't hurt to ask and even relatively short notice is sometimes enough notice. Dennis did a marvelous job explaining the context of a couple poems and reading them. He answered students' questions for quite awhile and in a very genuine, personable manner.
At the end of his talk, Dennis said he was willing to work with someone on their draft in front of the group. None of the 35 students or two other teachers took him up on his offer. So, I went to the computer, found two of my pieces of poetry, and was reminded of that exciting, queasy feeling called risk. He spent over 20 minutes workshoping them (for free) and both poems were markedly better. I enjoyed watching him talk through his suggestions and questions, while engaging and challenging the students.
NOTE: Dennis would like to talk about poetry in classrooms around the tri-county area in the fall. If you are a K-12 teacher in the Lansing area, shoot him an email at LansingPoet@gmail.com. I highly recommend him for his rapport with young people and his insights into poetry.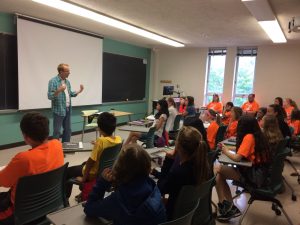 I also learned what it means to power through. I had surgery to remove a benign growth on my parotid gland (near my right ear) on the Wednesday before the Monday camp began. My four days to recover were shortened since I needed to stay overnight in the hospital due to the mass being infected and surgery lasting five hours (instead of 2-3 as expected). I also had an extra trip to the ER on Sunday due to inflammation and swelling. All of which is to say that I was in less-than-favorable condition to lead 11 sixth-eighth graders in much of anything.
Here's what I looked like when I came home from the hospital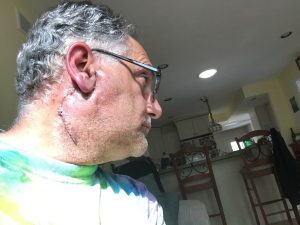 The stitch started at the top-front section in front of my ear, went under and behind my ear, and then petered out on my neck. I'm not sure if I grew my beard so I wouldn't have to shave or to hide the gruesomeness of it all.
I, of course, used the surgery as an example of taking life and turning it into creative writing: "What if instead of just taking out the growth, they put in a tracker or made me bionic in some way?" That inspired at least one story. Fortunately, I had wonderfully creative and cooperative 6th-8th graders. They jumped on everything on the camp agenda and cut me some slack when I needed to relax a bit. When you throw in that it didn't rain, we all got ice cream, and they actually pay me to lead the camp, leading this camp felt like a success (thanks to regular pain meds and a bunch of antibiotics).
I'd like to give a special shout-out to Hannah Schulte. She pinch hit for me on Tuesday morning when I had a doctor's appointment. She's a recent, Spartan graduate looking for a teaching job. She was in my class regularly a couple years ago and I was very impressed. May the Force be with her.