Google has a creative group of people working tirelessly to celebrate some aspect of each day on their opening page. These Google doodles often highlight the life of someone I didn't know existed from history. Today (my birthday), Google remembered my special day with this graphic (below) — when I clicked the play button, the candles moved as if lit.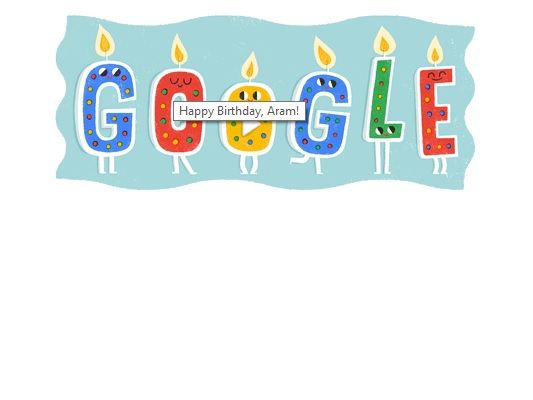 It's intended to make me feel like a celebrity, I suppose. For a second, it did feel good. Then, it fed into that creepy feeling that the world knows too much of my business. I also received birthday wishes via snail mail from our investment company, an email from Affordable Tours (the company we used to book a bus trip around Italy this year), and my dentist's office texted me. And Biggby did send me my coupon for a free drink…so I got that going for me. It's an attempt at contact, but it falls short.
I followed the link on the Google birthday wish and I learned about some historical things that happened on my birthday, which was nice. My favorite historical fact from October 28 is that in 1965 Pope Paul VI issued a decree absolving Jews of collective guilt for the crucifixion of Jesus Christ; I was five that day and somehow my folks didn't tell me about that earth-shaking moment in history (oddly it was the same exact day that the Gateway Arch along the waterfront in St. Louis, MO, was completed; maybe it's not so odd since that first fact seems like a giant leap in logic).
The Internet's awareness of my daily life bothers me during the rest of the year, too. I'll buy plane tickets on Orbitz for a trip to Seattle; later that day, my Facebook feed will include statements like "while you're in Seattle, check out the Space Needle." WTF? Leave me alone. I don't need your help. And I don't like where this all seems to be going. I don't want to be a character in a dystopian novel. My identity is too public, too easily available and that never ends well in those dark stories about the future.
My problem: it's becoming impossible to disconnect from the internet for long periods. Am I addicted or at least too dependent? Life is too precious to tear away the personal, emotional, spiritual side and give it up to a machine. It reminds me of a sad video that a friend shared called "Are You Lost in the World Like Me?" This sort of thing is happening in subtle, as well as dramatic ways every day. It's up to us to keep in touch personally instead of just through —
As I was typing these words, my Boston cousin, Nancy, called me. We talked for a long time and made tentative plans to meet in the Spring. She balanced out all the techno-wishes I had received. And renewed my hope in the human race. It really is up to each of us to make life-giving choices every minute. Thanks, Nancy.