I grew up traveling. Our family went places together. Sometimes my Baboo and Grandma Godoshian came along (I can still hear Baboo cracking jokes on that trip to Syracuse; Grandma didn't think he was funny, but she laughed under her breath anyway). My mom had our Green-Go (green & gold, paneled station wagon) tooling down one highway or another toward Walt Disney World or Gettysburg or Boston relatives most summers. I have to say it was mostly about the destination and less about the journey…but then again, I was a pre-teen and then a teen.
This recent vacation started off focused on a wedding at a distant destination (for us. More later about how fantastic that turned out to be.) Our first day in Stockholm, we realized that each day would bring surprising, enjoyable moments. Arriving at Central Station on the train from the airport, we bought a T-ban transportation pass that would be good for a week. Though it seemed pricey at the time, that investment opened up the city to us. We felt comfortable getting on any subway, bus, tram, or ferry that we needed because of the ease of access the pass card gave us. And that, in turn, ended up making the trips relatively freeing and inexpensive. We used it within 15 minutes of purchasing it to take a ferry across the bay to our hotel (and I didn't 'drive' anything for two weeks).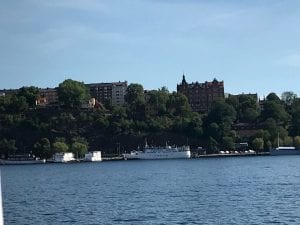 The boat hotel where we stayed a couple days is in this photo on the left. I didn't know it was in the photo when I took the shot.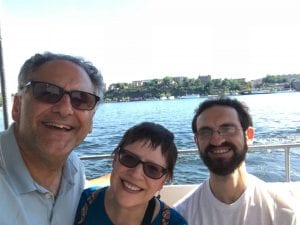 "Self portrait after days of travel on planes, trains, and automobiles. Adventure wins over checking the mirror, every time." CVH, RIP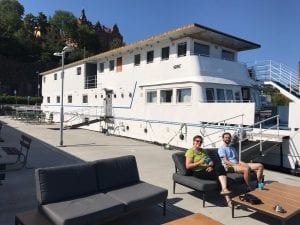 Rick Steves had prepared us well. We watched his video about the areas we would travel. We perused his book on the city. He mentioned a floating youth hostel as a possibility and, though we didn't find the exact one, Rygerfjord Hotel and Hostel had comfortable rooms and priceless views for affordable prices. Soaking this place in was one of our first joys. It is true, though, that it was one of our first challenges, too; I had it in my mind that it was docked to our right when we got off the ferry and we pulled our luggage a couple hundred yards out of the way before we realized it had been 50 feet to our left off the ferry. A sobering laugh at ourselves to start. While we were staying there, Sweden played in the World Cup. We experienced the popularity of soccer/football firsthand: every time Sweden scored, we could hear the fans cheer from the outside viewing venues around the city —— we were on the boat and could hear the cheers across the water in the downtown area a mile away.
Weddings exude joy and hope regardless of location, but being in such a bustling, novel place with friends did ratchet up the excitement. As a matter of fact, we had a small herd of people carrying flowers on the subway to the wedding, which was fun. Hallie Reed, formerly of East Lansing but now teaching and residing in Stockholm, Sweden, married Joakim Slettengren in an ornate church; they then had us transported (via bus and ferry) to an island for the reception. I kid you not. Swedish custom involves sharing many toasts at the reception. I bet there were over a dozen toasts (Rachel gave a very sweet one) sprinkled throughout the night. It didn't seem like too much —— we all felt closer to the couple after hearing from a diverse group of familiy and friends. Another Swedish custom was to split up parties at the reception; we sat next to people we didn't know and thus made new friends. One more way Hallie and Joakim personalized the experience: Each person at the wedding had a few sentences written up about him or her in the program explaining his or her relationship to the couple. Pretty damn cool. A friend asked what they served and not until I was writing this did I notice that they had the menu at the front of the program.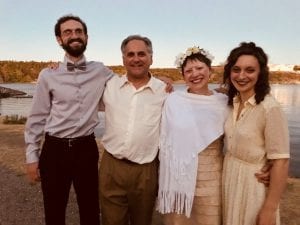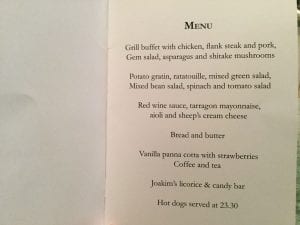 The second place we stayed was the same as the myriad American guests: Hellstens Malmgard. It was Queen Christina's Hunting Palace back in the 18th century. Our room was carved out of the attic space but was still plenty of room for the three of us (though the bathroom was hard to stand up in and a bit of an obstacle course). The breakfasts were buffet of deliciousness: soft & hard-boiled eggs, cheeses, yogurts, salami and other meats, croissants and other breads/crackers, jellies, at least one fish (usually herring or salmon), and always coffee and tea.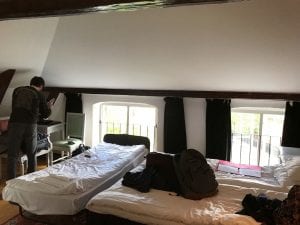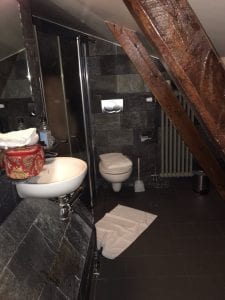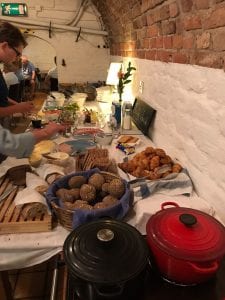 Our third spot (and first airbnb of the trip) was in Hagersten-Liljeholmen, right outside of downtown Stockholm. Since Rachel (and later Courtney) would be staying with us for part of the time, this space was larger. And just grand. On two floors and with a gorgeous view from the balcony, this was my favorite of all the places we stayed.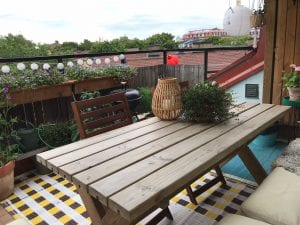 It was very helpful that most everyone we met knew how to speak English. It's so accomodating that it could make one feel inadequate. We did have a couple incidents, though, where language issues made life interesting. At a Thai restaurant, since the menu was just in Swedish, our waiter/cook asked us (in English) what we liked and made each of our meals to order. The food was so delicious (especially the spring rolls), that we went back a couple days later to order more spring rolls. The previous waiter wasn't there and the woman who helped us didn't know much English. Judy pointed to the spot on the menu and asked for two orders of spring rolls. We clarified with her and she seemed to understand. However, when she brought out the spring rolls, there were 14 of them. She brought us two large orders instead of the small. We decided that it was a happy accident and ate as many as we could and saved the rest for the next day at the train station.
One of our frustrations was that our train to Oslo had been canceled and the train company had neglected to email us. Many people were in the same holding pattern as we waited four hours for a train traveling the five hours to Oslo.
Our Oslo airbnb was minimalistic, but just enough. It was in the Grunerlokka neighborhood, which had a hip, international feel to it. We heard many languages spoken as we searched for coffee in the mornings and slept with the windows open (no screens) each night; it was only semi-dark from 11:30 PM to 3:30 AM and blackout curtains were a must. We visited the Nobel Peace Center and it was enlightening (follow the link for a quick look). From Oslo, we took trains, a bus, and a boat on our Norway in a Nutshell fjord cruise. Basically, breath-taking views in every direction for most of a full day.

This bathroom was extremely efficient use of space —— the shower walls folded in to give just enough room to stretch out when you brushed your teeth.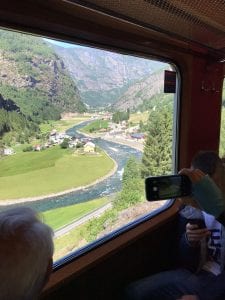 The one night we were in Bergen, Norway, our airbnb turned out to be somewhat hard to find, despite being very close to the train station. We passed it once and then circled back, partly because the "street" it was on was more like an alley. It was very clean and comfortable though, and within walking distance to everything we needed (coffee, Indian food, the funicular up the mountain, a salad & wraps place for lunch & ice cream).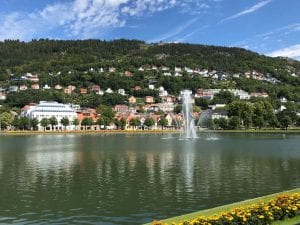 On past trips overseas, we have exchanged some of our American dollars for the country's monetary unit (in this case, krona). This time, though, both Sweden and Norway seemed virtually cashless. A few places actually had signs that read "cashless." We didn't need krona on us. It helped to know the exchange rate, so that we had a general idea of how much we were spending; I had it written down for awhile, then moved to just dividing (in Sweden by 9, in Norway by 8). Though it seems a long way from happening here, one thing did occur to me: if the American business community could be shown that people spend more money when it's digital, then it may happen sooner (as a tourist, especially, the amount sometimes doesn't "matter" as much when it's not tangible).
We struck up conversations with many delightful people on trains and in restaurants. We met Janne from Bergen on her way to her cottage; Kenneth from Oslo who worked for a tech company; we met Eesa from Stockholm while we all watched a World Cup game (Eesa asked me point blank what I thought of our President and the first word that came to mind was an "embarassment" and he agreed saying that our other recent Presidents had at least been gentlemen); I talked with a lawyer named John from Oslo getting away to the mountains to hike for the weekend (he was exceedingly taken with puns, idioms, and sayings from the English language and how understanding them could help him in his job); and we met Lorne and Audra from the San Francisco, CA, area — as a matter of fact, we kept running into them so much that we hung out with them several times after that, enjoying their company enough to exchange contact information. So many wonderful memories that the fact that Aaron, Judy, and I were starting to get on each other's nerves by the end of the trip seems almost insignificant.
Each person had their own story. Traveling does that for me. It reminds me of the diversity of the human experience and that I should never try to make someone's lived experience smaller by stereotyping them based on one attribute. We are all so much more than we seem. If you need a song that supports that notion, check out May Erlewine's "Never One Thing" from her new Mother Lion CD.
Peace and joy on your journey,
Aram